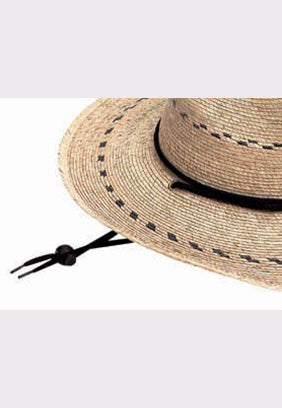 A replacement chin strap for your hat.
Backed by Science
UPF 50+ Sun Protection
From California Polytechnic State University: "The brim area of these hats is excellent, in fact we have never tested anything with 0% transmittance. Congratulations on this protection!"

*For sun protection choose a hat with a 3" brim or larger.
*Hats with vents (lattice) will not provide protection to that area.
*Water, sand, snow, and pavement can reflect the sun. Use sunglasses and sunblock with your hat.
Learn Why Sun Protection Matters to Us
Black nylon chin strap
I like the nylon chin strap more than the leather ones.
In truth, painted my Outback hat black, so wanted the black chin strap to match.
Love the outback hat!
Ordered two nylon chinstraps
As the rawhide chinstraps don't last forever, the nylon chinstraps are a nice option. It would be great if they came with instructions. Thanks!
Hat chin strap replacement
So glad I found Tula hats! Easy to order, not expensive (free shipping!) and I got it quickly and it worked out PERFECT!
Accessory replacement
Nice you can get replacement parts at reasonable prices. A mouse ate my leather garden hat tie!
Hat
saw a picture of a straw hat and it had a price of 5 dollars. I ordered it and got a hat strap. was not pleased