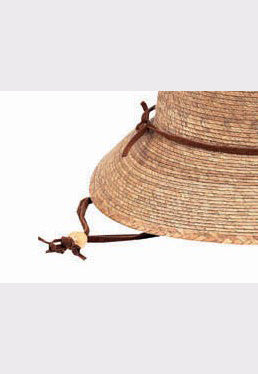 A replacement chin strap for your hat.
Backed by Science
UPF 50+ Sun Protection
From California Polytechnic State University: "The brim area of these hats is excellent, in fact we have never tested anything with 0% transmittance. Congratulations on this protection!"

*For sun protection choose a hat with a 3" brim or larger.
*Hats with vents (lattice) will not provide protection to that area.
*Water, sand, snow, and pavement can reflect the sun. Use sunglasses and sunblock with your hat.
Learn Why Sun Protection Matters to Us
The Band is Back Together!
I love my timeless but years old Tula hat - when my leather strap finally strapped - my email to customer service for a remedy received a prompt reply. Within a few days, my new strap came in the mail with instructions that made positioning it easy. My beloved hat is just like new again.
Great customer service!
I have had my Tula hat since about 2015, and finally the leather chin strap became weathered and stiff. What a happy surprise, that I could order a new strap for a very modest price, and with the help of a great customer-service professional. Now my hat looks and feels just like it did when I bought it. Thanks, Tula!
Product support
I need a new clasp after my dog got to it. The replace meant strap fit the bill. In the mean time I fashioned my own chin strap. I used the replacement strap on my older Tula hat. Thanks for stocking this item.