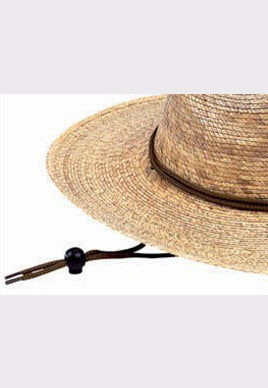 A replacement chin strap for your hat.
Backed by Science
UPF 50+ Sun Protection
From California Polytechnic State University: "The brim area of these hats is excellent, in fact we have never tested anything with 0% transmittance. Congratulations on this protection!"

*For sun protection choose a hat with a 3" brim or larger.
*Hats with vents (lattice) will not provide protection to that area.
*Water, sand, snow, and pavement can reflect the sun. Use sunglasses and sunblock with your hat.
Learn Why Sun Protection Matters to Us
Nylon chin straps
I love your hats. I wore one completely out and currently own three, but the nylon chin straps are so unbecoming of such wonderful hats. They do work well but they don't do justice to Tula hats.
Great hats
This is my third Tula hat. All last much longer than they should have for how I treat them. I do yard work, bird, hike, kayak and SUP and even swim in mine. I'll never buy another brand.
Great Quality Chinstrap
I was astonished at how reasonable the price was and free shipping? Kinda wow! The chinstrap is great quality and length and comes with cord anchor to cinch chinstrap up snug and hold it there.
And their hats! Simply outstanding!!!
Good price and well made
Handy to be able to get a spare if needed in the future for either of my two Tula hats.
New Chinstrap And More
I bought my first Tula Straw Gardner Hat at the Dixie-Lee Junction ACE Hardware in Lenoir City, TN over 10 years ago. It came with the leather chinstrap and wooden bead keep. It is not worn daily, but it has served me well while gardening, mowing and working around the pool. The chinstrap was purchased for this hat after I purchased a new Gardener Lattice Hat at Mize Farm and Garden in Johnson City, Tennessee. I like the look of the leather chinstrap, but the nylon replacement looks to be more durable. The hats are great and the nylon chinstrap, while not as cool looking as leather, is very practical. Thanks.